Course details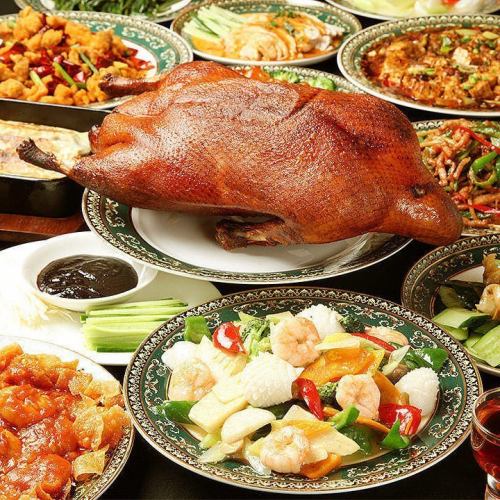 Recommended for the year-end party! 【All you can eat & All you can drink course】 All 200 items Order formula Viking 2880 yen (tax excluded)
By using a coupon2880 yen
On Saturdays, you can bring your coupon and use it at 2,680 yen (tax excluded).
200items

3persons

-

All-you-can-drink available

■ all-you-can-drink menu ■
Beijing duck is also OK! All 200 kinds of dishes are all you can eat! (Shark fin / abalone is excluded) Because it is an ordered buffet, you can enjoy full-fledged Chinese cuisine in the freshly made! ※ 3 people ~ reservation received We are.※ You can not take out food and drinks.※ If you leave and drink you will get the same fee as the menu.
Course menu
■ Beijing duck in a kiln-baked dish
■ Freshly baked Cantonese style chashops
■ Specialties! Iron-bowl dumplings
■ Shanghai specialty! Soup with Sour pong!
■ Stir-fry of air-conditioner
■ Chilli sauce of shrimp
■ Other, all 200 types! (Shark fin / abalone is excluded)
※ boiled shark's fin is plus 600 yen!
All-you-can-drink menu
·beer
· Draft beer, super dry (medium bottle), Sapporo black label (medium bottle)
China liquor
· Shaoxing wine turtle turtle 3 years Chen liquor, Shaoxing wine 5 year Chen bottle, sake of Chinese common people (two pot head)
·plum wine
· Rock, Soda
·Fruit wine
· Apricot sake, Kinmokusei liquor, cider, lemon sake, litchi liquor, giant pepper (rock · soda)
·Sake
· One and two
Shochu
· Today's top-class shochu bottle
·wine
· House wine, French wine, Italian wine
·whiskey
· Whiskey (single · double), highball (single · double), cork hi, gin (rock · water split)
·Cocktail
· Cassis Orange, Cassis Yogurt, Cassis Oolong, Cassis Grapefruit, Cassis Milk, Cassis Calpis, Gin Tonic, Jin Soda, Cassis Jasmine, Kalua Milk
·sour
· Oolong Hi, Lemon Sour, Aprico Sour, Plum Sour, Calpis Sour, Rhamnesaw, Pomegranate Sour, Shochu High
·Soft drink
· Orange juice, Coca-Cola, Ginger ale, Calpis · Calpis soda, Jasmine tea, Chrysanthemum flower tea, Oolong tea
Available days for reservation

Monday - Sunday - Public holidays - Holidays
2018/10/03 update