Course details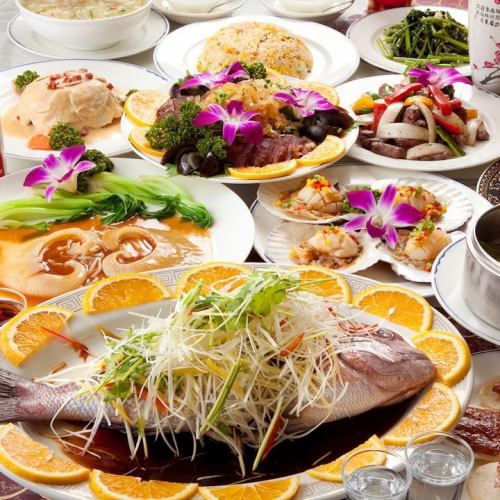 Recommended for the New Year's party! 【2 hour drinks with all you can] with Beijing duck & shark fin! All 10 items 5780 yen (no tax) course
By using a coupon5780 yen
※ cooking only 4800 yen (tax excluded)
10items

4

-

75persons

All-you-can-drink available

■ All you can drink menu ■
On parade of sea bream, Beijing duck, shark's fin and luxurious ingredients !! For those wanting to enjoy Chinese luxury!
Course menu
◆ Assorted five kinds of cold weather
◆ Boiled chili sauce of Taisho shrimp
◆ Beijing duck
Simmered shark fin
◆ Mabo tofu
◆ Stir-fried seafood and vegetables
◆ Thai fish figure steamed special sauce sauce
Shanghai fried rice
◆ Shellfish (Hoshino Kobashira) Five Soup Soup
◆ Annin tofu
※ The number of guests is limited to 4 people ~ 75 people.
※ We also correspond to various events, parties
Please inquire by all means.
All-you-can-drink menu
·beer
· Draft beer, super dry (medium bottle), Sapporo black label (medium bottle)
· Chinese sake
· Shaoxing wine turtle turtle 3 years Chen liquor, Shaoxing wine 5 year Chen bottle, sake of Chinese common people (two pot head)
·Plum wine
· Rock, Soda
·Fruit wine
· Apricot sake, kinmokusei liquor, cider, lemon sake, litchi liquor, giant pepper (rock · soda)
·Sake
· One and two
· Shochu
· Today's top-class shochu bottle
·wine
· House wine, French wine, Italian wine
·whiskey
· Whiskey (single / double), highball (single / double), cork hi, gin (rock · water split)
·Cocktail
Cassis Orange, Cassis Yogurt, Cassis Oolong, Cassis Grapefruit, Cassis Milk, Cassis Calpis, Gin Tonic, Jin Soda, Cassis Jasmine, Kalua Milk
·sour
· Oolong Hi, Lemon Sour, Aprico Sour, Plum Sour, Calpis Sour, Ramune Sauper, Pomegranate Sour, Shochu High
·Soft drink
· Orange juice, Coca-Cola, Ginger ale, Calpis Calpis soda, Jasmine tea, Chrysanthemum flower tea, Oolong tea
Available days for reservation

Monday - Sunday - Public holidays - Holidays
2019/01/21 update